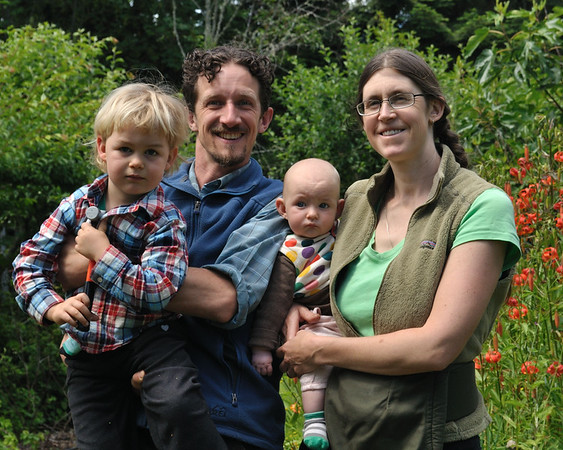 Who are we?
Devon Bonady began Fern Hill Nursery in 2006 with a passion for plants, a pickup truck, a small hoophouse, and help from lots of friends and clients.  Brian Basor got his act together and pitched in to help starting in 2008.  Now that we are married and have two wee munchkins, our nursery business is just one of many busy aspects of life on our family homestead.
What are we doing here?
At Fern Hill Nursery, our mission is to support the vibrant health of our family, our friends, our community, and the land around us. We propagate and cultivate a diverse array of edible, medicinal, native, and locally adapted plants to share with gardeners and farmers in our bioregion. By cultivating nutritious food and medicine with love and joy, we support the health and well-being of our family. By hosting educational workshops, sharing horticultural and herbal skills, and growing high quality plants, we ensure that our community can establish and care for a biodiverse landscape.
What is our vision for the present and future?
We help people engage in a relationship with the land that is just as healing for plant and animal communities as it is for human communities. We envision an abundance of nutritious food, herbal medicine, clean water, fresh air, and healthy soils for which we express gratitude by practicing soulful stewardship and careful husbandry.
What do we believe in?
Honesty, integrity, and service: We strive to provide the best service possible for our customers.
Shared wisdom and knowledge: We learn from each other and from our customers. We teach our skills to those who are interested. We acknowledge mistakes and keep improving!
Care and respect for people and living things: We seek to improve our relationships by listening carefully and acting with humble determination. We take actions that promote healthy soil, water, and air. We don't use synthetic fertilizers or pesticides. We re-use and recycle whenever possible.
Local food and local economy: We purchase local goods and hire local people for the services we need as much as we can. We believe that supporting the local economy is good for all of us.
Share the surplus: We donate extra plants to local fund-raisers and school groups because we want to give something back in return for the abundance the earth has given to us.